Share
Related Topics
Tagged As
The Crane "Adorable" Humidifier is a modern-looking ultrasonic humidifier line featuring models designed to appeal to kids. (An ultrasonic humidifier differs from steam-producing or fan/impeller-mist generation units by using an ultrasonic frequency to disperse the water into the air.) The models we tried, Timmy the Tiger and Oscar the Owl, released cool water mist from the "ear" area, which is clever. '?®'?®
The humidifiers work quite well for hydrating the air and preventing and soothing nasal dryness, dry cough, sinus irritation, and dry skin. Crane "Adorable" Humidifiers work best in relatively small rooms and are especially effective in bedrooms; because units are very quiet, they won't disturb light sleepers.
Energy and Water Use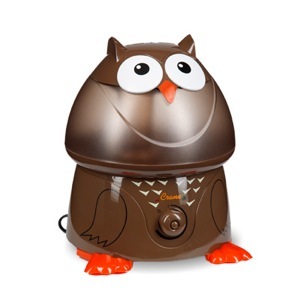 Crane's Adorable Humidifiers require just 32 watts to run, much less than a standard light bulb. Water use will depend on the output setting, so it can vary from a few cups of water to 2.1 gallons daily. Set on low, water lasts several days without refilling. On high, it may need refilling once a day.'?®'?®
Refilling
The water reservoir (the "head" of the animal figure in most models) inverts and fits easily into a typical bathroom sink and under the faucet for filling. There was no fill-line requiring us to guess how much water to put in. Be conservative when refilling so the bottom water basin doesn't overflow when the "head reservoir" is re-placed.
Be careful to dry off the water reservoir after refilling so it doesn't drip when placed back onto the base of humidifier. It is always best to keep it on a water-safe surface as recommended by the manufacturer. (They also recommend not placing it on a towel or carpeted surface since these surfaces can block the fan located at the bottom of the humidifier and cause it to overheat. Metallic surfaces are also discouraged.)
Safety
The Crane Adorable Humidifier is very stable and doesn't have small parts a child could choke on. Since it is very simple machine with just a single knob to control the amount of mist it produces - it is very difficult to misuse the unit. There are also no exposed moving parts, so we judged it very safe around children.'?®
It is also made without Bisphenol A (BPA) and phthalates, and features a safety sensor that automatically shuts off the humidifier when the water level in the tank gets too low.
Other Aspects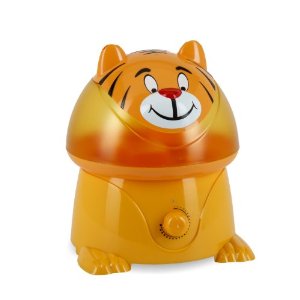 If you are concerned about hard water causing heavy buildup of minerals in the humidifier, including lime and scale, or white "dust" coming from the cool mist, you can purchase an optional demineralization filter, which retails at $10.90 for one, or $49.99 for a six-pack.
Regular cleaning is important to prevent bacteria or mineral buildup, and straightforward, using instructions provided and a bit of white vinegar.
'?®You can also purchase Crane Humidifier Cleaning Solution at $3.99 for a single 8 oz. bottle or $19.99 for a six-pack.
Value
The Crane Adorable Humidifier retails at $45.99 and comes with a limited one-year warranty. It's a good value for a dependable humidifier that you will use often.
Overall
We were very satisfied with performance. If used as directed, in dry climates or during winter, these units can enhance the health and comfort of a home. The Crane Adorable Humidifier is attractive, easy-to-use, safe, and provides needed moisture to dry indoor air.
HHI Error Correction Policy
HHI is committed to accuracy of content and correcting information that is incomplete or inaccurate. With our broad scope of coverage of healthful indoor environments, and desire to rapidly publish info to benefit the community, mistakes are inevitable. HHI has established an error correction policy to welcome corrections or enhancements to our information. Please help us improve the quality of our content by contacting allen@healthyhouseinstitute.com with corrections or suggestions for improvement. Each contact will receive a respectful reply.
The Healthy House Institute (HHI), a for-profit educational LLC, provides the information on HealthyHouseInstitute.com as a free service to the public. The intent is to disseminate accurate, verified and science-based information on creating healthy home environments.
While an effort is made to ensure the quality of the content and credibility of sources listed on this site, HHI provides no warranty - expressed or implied - and assumes no legal liability for the accuracy, completeness, or usefulness of any information, product or process disclosed on or in conjunction with the site. The views and opinions of the authors or originators expressed herein do not necessarily state or reflect those of HHI: its principals, executives, Board members, advisors or affiliates.
(Note: The views expressed in this blog post are those of the author, and do not necessarily represent those of The Healthy House Institute, LLC.)
Crane Cool Mist Humidifiers: Created on January 13th, 2013. Last Modified on January 23rd, 2013