Share
Related Topics
Tagged As
More

Assail (and remove it), don't inhale it! Here's how:
We do not strictly control Google ad content. If you believe any Google ad is inappropriate, please email us directly here.
Use a high quality low-moisture steam vapor cleaning machine (example, not an endorsement) since steam vapor deep cleans and sanitizes without chemicals, and kills dust mites, bed bugs, etc. Steam vapor also helps remove protein allergens to avoid triggering allergic reactions.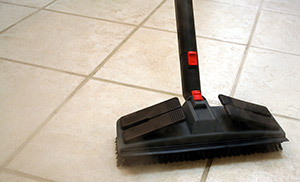 Brush the dog (or cat) regularly outdoors so hair and dander does not shed indoors.
Use large entrance mats to stop dust at the door.
Use a vacuum that traps rather than blows dust.
Use a duster that removes rather than redistributes dust (a damp cloth, microfiber cloth, Swiffer-type duster all work well).
Use a high-efficiency filter on the central heat/ac to capture airborne allergens and run the fan constantly to maintain air cleanliness.
Initially, wear an N95 dust mask and have the kids wear them during cleaning until dust is under better control.

HHI Error Correction Policy
HHI is committed to accuracy of content and correcting information that is incomplete or inaccurate. With our broad scope of coverage of healthful indoor environments, and desire to rapidly publish info to benefit the community, mistakes are inevitable. HHI has established an error correction policy to welcome corrections or enhancements to our information. Please help us improve the quality of our content by contacting allen@healthyhouseinstitute.com with corrections or suggestions for improvement. Each contact will receive a respectful reply.
The Healthy House Institute (HHI), a for-profit educational LLC, provides the information on HealthyHouseInstitute.com as a free service to the public. The intent is to disseminate accurate, verified and science-based information on creating healthy home environments.
While an effort is made to ensure the quality of the content and credibility of sources listed on this site, HHI provides no warranty - expressed or implied - and assumes no legal liability for the accuracy, completeness, or usefulness of any information, product or process disclosed on or in conjunction with the site. The views and opinions of the authors or originators expressed herein do not necessarily state or reflect those of HHI: its principals, executives, Board members, advisors or affiliates.
(Note: The views expressed in this blog post are those of the author, and do not necessarily represent those of The Healthy House Institute, LLC.)
Cleaning with Allergies - Quick Tips: Created on September 29th, 2012. Last Modified on October 9th, 2012