Share
Related Topics
Tagged As

Increasingly, homeowners are seeking alternative sources of energy that can meet their needs in an emergency.
We do not strictly control Google ad content. If you believe any Google ad is inappropriate, please email us directly here.
When a home loses power, off goes the heat, out go the lights, the food in the refrigerator spoils and the garage doors can become disabled. Losing power for days, weeks or even longer can be costly, inconvenient and dangerous.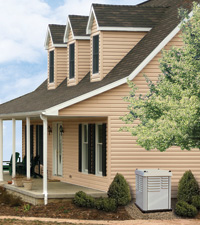 While many homeowners have tried to address their need for electricity in an emergency with a portable generator, portability may not be the key. Experts such as the American Red Cross suggest that during power outages, permanently installed stationary generators are better suited for providing backup power to the home than portable generators.

An automatic standby generator can sense an outage and respond immediately. There are no extension cords to plug in, gas tanks to fill or switches to flip. Plus, portable generators—if misused—can cause hazards such as carbon monoxide poisoning from toxic engine exhaust, electric shock or fire.

However, in the past, some have found the cost of automatic stationary generator systems to be prohibitive. The good news is that there are now automatic standby systems available at comparable prices to portable generators. One compact 7-kilowatt [kW] system consists of a generator and transfer switch packaged together at about $1800.
Automatic standby generators operate on natural gas or liquid propane vapor, eliminating the fuel storage, spillage, spoilage or odor concerns that are common with gasoline or diesel models. Because of their favorable emissions profile, gaseous-fueled generators, are becoming increasingly popular as an environmentally conscious solution for backup power needs.

For those who want to go even greener, there are automatic standby generators designed and warranted for off-grid use when used in an alternative energy system.
HHI Error Correction Policy
HHI is committed to accuracy of content and correcting information that is incomplete or inaccurate. With our broad scope of coverage of healthful indoor environments, and desire to rapidly publish info to benefit the community, mistakes are inevitable. HHI has established an error correction policy to welcome corrections or enhancements to our information. Please help us improve the quality of our content by contacting allen@healthyhouseinstitute.com with corrections or suggestions for improvement. Each contact will receive a respectful reply.
The Healthy House Institute (HHI), a for-profit educational LLC, provides the information on HealthyHouseInstitute.com as a free service to the public. The intent is to disseminate accurate, verified and science-based information on creating healthy home environments.
While an effort is made to ensure the quality of the content and credibility of sources listed on this site, HHI provides no warranty - expressed or implied - and assumes no legal liability for the accuracy, completeness, or usefulness of any information, product or process disclosed on or in conjunction with the site. The views and opinions of the authors or originators expressed herein do not necessarily state or reflect those of HHI: its principals, executives, Board members, advisors or affiliates.
Stationary Generators Offer Benefits in Power Outages: Created on February 6th, 2011. Last Modified on April 16th, 2011