Blower door tests help determine a home's airtightness. Reasons for ensuring proper building tightness:
Reducing energy consumption due to air leakage
Avoiding moisture condensation problems
Avoiding uncomfortable drafts caused by cold air leaking in from the outdoors
Making sure the home's air quality is controlled, minimizing air pollution.

How They Work
A blower door consists of a powerful fan that mounts into the frame of an exterior door. The fan pulls air out of the house, lowering the air pressure inside. The higher outside air pressure then flows in through all unsealed cracks and openings. Energy auditors may use a smoke pencil to detect air leaks. These tests determine the air infiltration rate of a building.
We do not strictly control Google ad content. If you believe any Google ad is inappropriate, please email us directly here.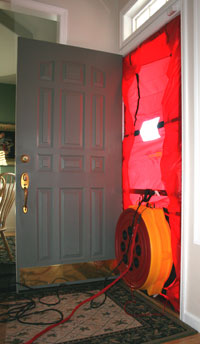 Calibrated blower door
Blower doors
consist of a frame and flexible panel that fit in a doorway, a variable-speed fan, a pressure gauge to measure the pressure differences inside and outside the home, and an airflow
manometer
and hoses for measuring airflow.
There are two types of blower doors: calibrated and uncalibrated. It is important to use a calibrated door. This type of blower door has several gauges that measure the amount of air pulled out of the house by the fan. Uncalibrated blower doors can only locate leaks in homes. They provide no method for determining the overall tightness of a building. The calibrated blower door's data allow the auditor to quantify the amount of air leakage and the effectiveness of any air-sealing job.
Preparing for a Blower Door Test
Take the following steps to prepare your home for a blower door test:
Close windows and open interior doors
Turn down the thermostats on heaters and water heaters
Cover ashes in wood stoves and fireplaces with damp newspapers
Shut fireplace dampers, fireplace doors, and wood stove air intakes

Energy efficiency incentive programs, such as the DOE/EPA ENERGY STAR® Program, require a blower door test (usually performed in less than an hour) to confirm the tightness of the house.
HHI Error Correction Policy
HHI is committed to accuracy of content and correcting information that is incomplete or inaccurate. With our broad scope of coverage of healthful indoor environments, and desire to rapidly publish info to benefit the community, mistakes are inevitable. HHI has established an error correction policy to welcome corrections or enhancements to our information. Please help us improve the quality of our content by contacting allen@healthyhouseinstitute.com with corrections or suggestions for improvement. Each contact will receive a respectful reply.
The Healthy House Institute (HHI), a for-profit educational LLC, provides the information on HealthyHouseInstitute.com as a free service to the public. The intent is to disseminate accurate, verified and science-based information on creating healthy home environments.
While an effort is made to ensure the quality of the content and credibility of sources listed on this site, HHI provides no warranty - expressed or implied - and assumes no legal liability for the accuracy, completeness, or usefulness of any information, product or process disclosed on or in conjunction with the site. The views and opinions of the authors or originators expressed herein do not necessarily state or reflect those of HHI: its principals, executives, Board members, advisors or affiliates.
Blower Door Test: Created on June 4th, 2009. Last Modified on November 23rd, 2010