Share
Related Topics
Tagged As
Greener and more sustainable cleaning products are often purported to be weak and less effective than their traditional counterparts. However, as the green trend continues, more products are measuring up or even exceeding our expectations. That was the case in our testing of Skoy Cloths and Scrubs.
We do not strictly control Google ad content. If you believe any Google ad is inappropriate, please email us directly here.
Skoy Cloths:
Reusable cleaning cloths made from natural, unbleached cotton and wood-based cellulose pulp that are designed to replace paper towels for cleaning up everyday messes.
Testing Results
Effectiveness - The Skoy Cloth was a very effective cleaning tool for quick, light cleanings. I found it especially useful for cleaning kitchen surfaces. Much like a sponge, I could wet it, wipe a surface, then rinse, wring, and repeat. To sanitize the cloth, I could put it in the dishwasher on hot or microwave it while wet for 1-2 minutes, and then hang it to air dry. It dried quickly which kept it from harboring significant amounts of bacteria and mold that cause unpleasant odors, a common malady of sponges. The Skoy Cloth also worked nicely for cleaning smooth surfaces like glass since it didn't tend to collect lint and leave streaks.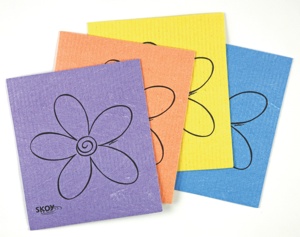 Ease of Use - The Skoy Cloth could wipe and scrub away light messes, and absorb spilled liquids with ease and less waste than paper towels.
Durability - After five months of daily use, the cloths are showing some wear but definitely still useable and effective. However, they are made from natural compounds so that they will naturally biodegrade when composted correctly.
Value - The price of a four-pack of Skoy Cloths is $6.99, about what you would pay for eight rolls of name-brand paper towels. Skoy Cloths will last twice if not three times as long, definitely making them a smart investment.
Skoy Scrubs:
Scrubbing cloths made from cotton and nontoxic hardeners designed to replace traditional scouring pads.
Testing Results
Effectiveness - The Skoy Scrub worked quite well for scrubbing away tough grease and grime from my dishes and cookware. Yet, it didn't appear to make any scratches them. It was also useful for cleaning the sink and baked-on residue on the stove. Like the Skoy cloth, it could be put in the dishwasher for cleaning to reduce bacteria and odors.
Ease of Use - I found the Skoy Scrub was easier to use than a scrubbing pad. Being more cloth-like allowed it to clean in tighter spaces such as around faucets and stove burners, and small containers and cups.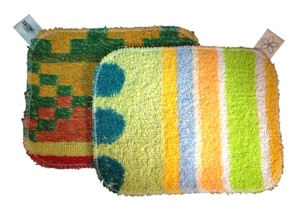 Durability - The Skoy Scrub has been very durable so far, lasting five months without much sign of wear.
Value - A two-pack of Skoy Scrubs retails at $6.99. Given how long my current one has lasted, it's definitely a worthwhile expense.
Overall:
While Skoy Cloths haven't entirely replaced my use of paper towels, they have definitely reduced the amount I use. Both they and the Skoy Scrubs have become a staple in my home for daily cleaning. They've proven themselves to be effective, durable, hygienic, and sustainable, making them great tools in keeping a healthy home.
HHI Error Correction Policy
HHI is committed to accuracy of content and correcting information that is incomplete or inaccurate. With our broad scope of coverage of healthful indoor environments, and desire to rapidly publish info to benefit the community, mistakes are inevitable. HHI has established an error correction policy to welcome corrections or enhancements to our information. Please help us improve the quality of our content by contacting allen@healthyhouseinstitute.com with corrections or suggestions for improvement. Each contact will receive a respectful reply.
The Healthy House Institute (HHI), a for-profit educational LLC, provides the information on HealthyHouseInstitute.com as a free service to the public. The intent is to disseminate accurate, verified and science-based information on creating healthy home environments.
While an effort is made to ensure the quality of the content and credibility of sources listed on this site, HHI provides no warranty - expressed or implied - and assumes no legal liability for the accuracy, completeness, or usefulness of any information, product or process disclosed on or in conjunction with the site. The views and opinions of the authors or originators expressed herein do not necessarily state or reflect those of HHI: its principals, executives, Board members, advisors or affiliates.
(Note: The views expressed in this blog post are those of the author, and do not necessarily represent those of The Healthy House Institute, LLC.)
Review: Skoy Cloths & Scrubs - Healthy & Sustainable: Created on December 17th, 2013. Last Modified on January 1st, 2014