Share
Related Topics
Tagged As
Imagine not having to plan your life around a hot-water schedule. Tankless technology offers a solution to this everyday headache: an endless supply of hot water that's also energy efficient.
We do not strictly control Google ad content. If you believe any Google ad is inappropriate, please email us directly here.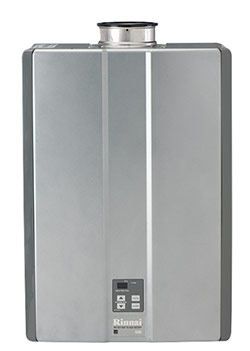 To prove this technology delivers on its promises—luxury, efficiency and an unending hot-water supply—we enlisted the help of Troy Ramsland, our resident-tester in Gold Beach, Oregon.
The Rinnai Ultra Series Tankless Water Heater (model: RU80i) was installed in the 3-bedroom and 1-bathroom home in April. And since the installation, Ramsland and his family have been pleased with the amount of hot water and the lack of maintenance required.
"I'm very familiar with tankless technology. In fact, while I was living in Puerto Rico I owned a tankless water heater. I was pleased both then and now with the technology, the endless supply of hot water and the low-maintenance aspects of the unit," said Ramsland.
Science Behind Tankless Technology
Rinnai Tankless Water Heaters only operate when the need for hot water is detected, so they use less energy—up to 40 percent less—than tank-style water heaters. Also, since there is no storage tank of hot water to deplete, homeowners can run several showers in a row or multiple hot-water appliances at the same time with no fear of running out.
Capacity
The RU80i is designed to produce up to eight gallons of hot water per minute (gpm)—about three showers and one faucet at the same time. (Note that factors, such as ground-water temperature play a role in determining maximum flow rate.) Ramsland noted that the unit provided ample hot water for a shower and the washing machine without any pressure or temperature differences.
Energy Use
The RU80i was tested side-by-side against Ramsland's standard, electric-storage water heater. To date, he's seen similar energy costs between the electric storage tank and the propane-fueled tankless water heater—approximately $30/month. (Note that the cost of electricity in Oregon is fairly inexpensive currently and the comparison does not include any cold or winter months.)
Value
Rinnai Ultra Series Tankless Water Heaters retail around $2,000—approximately two times that of a traditional tank-style water heater. But, due to its energy efficiency, nearly twice the lifespan and rebates available, the unit can pay back the homeowner in as little as a few years—depending on a family's hot-water use. For residential applications, the Rinnai Ultra Series Tankless Water Heaters also come with a limited warranty—twelve years for the heat exchanger and five years for parts and labor.
Other Observations
Ramsland noticed that the length of time for hot water to get to the outlet was comparable between the two types of water heaters, however, he did note a couple times that the tankless water heater may have taken 1-2 seconds longer.

Also noted was Ramsland's switch to propane. As with all propane fueled-appliances, the propane tank needed to be filled or replaced to make sure there was fuel to power the water heater.
Installation
Rinnai recommends all gas appliances be professionally installed. At HHI, we support the manufacturer's recommendation. Ramsland has a construction background and was able to mount, plumb and vent the unit himself with ease. For homeowners that do not have a plumbing or construction background, you can locate a Rinnai Tankless Water Heater dealer in your area via the company's website—www.rinnai.us.
Other Features
Built-in Rinnai Circ-Logic™ recirculation program cycles an external pump at preset intervals and temperatures to maximize efficiency and homeowner comfort.
Temperature-lock function prevents accidental or unauthorized changes to water temperature.
Scale Detection System detects lime scale buildup and alerts the user when maintenance is required.

Overall
The RU80i is a quality water heater apparently built to provide endless hot water for the long-term. It is compact, low-maintenance and convenient. Best of all it does seem to live up to its claim to provide both luxury and energy efficiency.
HHI Error Correction Policy
HHI is committed to accuracy of content and correcting information that is incomplete or inaccurate. With our broad scope of coverage of healthful indoor environments, and desire to rapidly publish info to benefit the community, mistakes are inevitable. HHI has established an error correction policy to welcome corrections or enhancements to our information. Please help us improve the quality of our content by contacting allen@healthyhouseinstitute.com with corrections or suggestions for improvement. Each contact will receive a respectful reply.
The Healthy House Institute (HHI), a for-profit educational LLC, provides the information on HealthyHouseInstitute.com as a free service to the public. The intent is to disseminate accurate, verified and science-based information on creating healthy home environments.
While an effort is made to ensure the quality of the content and credibility of sources listed on this site, HHI provides no warranty - expressed or implied - and assumes no legal liability for the accuracy, completeness, or usefulness of any information, product or process disclosed on or in conjunction with the site. The views and opinions of the authors or originators expressed herein do not necessarily state or reflect those of HHI: its principals, executives, Board members, advisors or affiliates.
(Note: The views expressed in this blog post are those of the author, and do not necessarily represent those of The Healthy House Institute, LLC.)
Rinnai Ultra Series Tankless Water Heater Review: Where Luxury Meets Energy Efficiency: Created on August 24th, 2013. Last Modified on August 28th, 2013