Share
Related Topics
Tagged As
More

With the upswing in BPA-free products, it's no surprise S.C. Johnson & Son, Inc., the makers of Ziploc, are catering to consumers' demand for safer, BPA-free products, and beyond that, products that limit the use of plastic. To fill that need, they have created the Ziploc VersaGlass line of storage containers. While not entirely glass (the lids are made with a flexible plastic) the main storage containers are made of tempered glass.
We do not strictly control Google ad content. If you believe any Google ad is inappropriate, please email us directly here.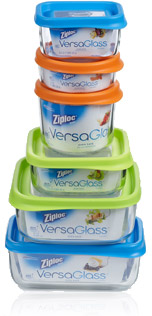 Tempered glass is designed for use for oven baking and microwave cooking, as it can withstand temperatures up to 400 degrees Fahrenheit.* This is great to have in a storage container since you can safely cook, serve/eat, store, and reheat in the same container, limiting extra dishwashing and
water
use. Unlike plastic, the VersaGlass is also easier to clean and resistant to staining and absorbing food
odors
. This makes it a more hygienic choice as well. The disadvantage to glass is it's fragility and heavy weight, but any glass container will have comparable disadvantages.
On-the-Go
Since the containers are made of inert glass, they are very convenient containers for pack-lunches that require reheating. While all Ziploc VersaGlass containers could be used to take food to work or school, we'd recommend only their smallest containers, 13 oz. and 16 oz. models respectively, as any of the bigger containers we felt were inconveniently heavy.
Since the VersaGlass lids are made of a flexible plastic/silicon-like material, they are very easy to get on and off. Unfortunately, we found that this feature made them more susceptible to leaking than some other glass containers we had tried in the past. As a result, we don't recommend filling them to the brim, using them for storing liquids, or turning them upside down. Especially when used on-the-go, extra caution is needed during transportation to prevent spills.
Overall
In conclusion, we are glad a major corporation like S.C. Johnson and Son, Inc. is taking steps to promote a healthier alternative to BPA-laden plastic containers. We found the VersaGlass containers very versatile and useful, especially for reheating and storing leftovers safely. They also seem durable which makes these containers sustainable investments in safer food storage.

*While the glass container can be used at high temperatures, the plastic lid should be used only when storing food.
HHI Error Correction Policy
HHI is committed to accuracy of content and correcting information that is incomplete or inaccurate. With our broad scope of coverage of healthful indoor environments, and desire to rapidly publish info to benefit the community, mistakes are inevitable. HHI has established an error correction policy to welcome corrections or enhancements to our information. Please help us improve the quality of our content by contacting allen@healthyhouseinstitute.com with corrections or suggestions for improvement. Each contact will receive a respectful reply.
The Healthy House Institute (HHI), a for-profit educational LLC, provides the information on HealthyHouseInstitute.com as a free service to the public. The intent is to disseminate accurate, verified and science-based information on creating healthy home environments.
While an effort is made to ensure the quality of the content and credibility of sources listed on this site, HHI provides no warranty - expressed or implied - and assumes no legal liability for the accuracy, completeness, or usefulness of any information, product or process disclosed on or in conjunction with the site. The views and opinions of the authors or originators expressed herein do not necessarily state or reflect those of HHI: its principals, executives, Board members, advisors or affiliates.
(Note: The views expressed in this blog post are those of the author, and do not necessarily represent those of The Healthy House Institute, LLC.)
Ziploc VersaGlass Storage Containers Review: Created on March 26th, 2013. Last Modified on March 27th, 2013