Share
Related Topics
Tagged As
One common complaint about "going green" and choosing healthier furniture is the price. This is because much of green furniture is made completely of solid wood and as result, carries a higher price. Now more companies are looking to make healthier and greener furniture at a more accessible price, such as the company UrbanGreen.
We do not strictly control Google ad content. If you believe any Google ad is inappropriate, please email us directly here.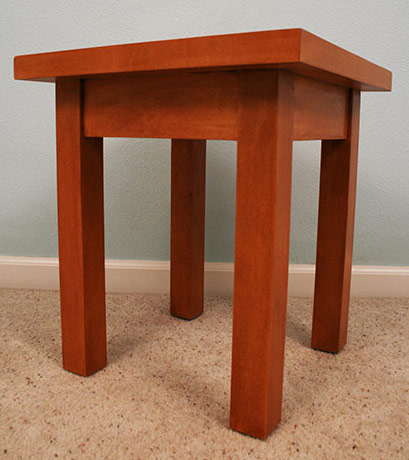 UrbanGreen makes furniture in many styles including modern and traditional. Their products are usually made with a combination of solid wood and wood veneers to reduce prices and to ensure consistency. We got the opportunity to try their Hudson Stool Bench in the Maple Amber Finish.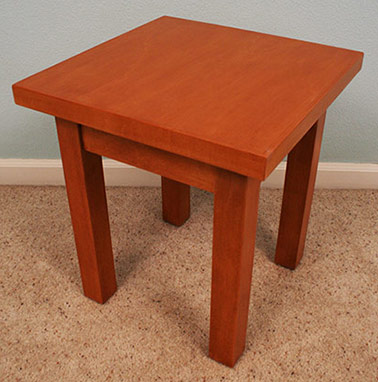 The UrbanGreen Hudson Stool Bench is a simple yet attractive bench. It was obvious this was a quality product early on. It came assembled and ready-to-use, a great plus, and was very sturdy. No warping or cracks were visible, and no perceivable wobble when sat upon by people of various sizes. It worked great near the front door for guests to sit down and take off their shoes.
Another thing we noticed immediately was there was no "new furniture smell", which usually occurs when furniture is
outgassing
formaldehyde
and other VOCs found in glues, paints and finishes. This made it evident that UrbanGreen uses only formaldehyde-free glues and low-VOC finishes and paints (see
Q & A: Green Paint
).
While we chose the Maple Amber finish for our particular stool, all UrbanGreen furniture can be personalized in a variety of stains and colors, and in customizable sizes as well. The Hudson Stool Bench is available unfinished and in 15 different finishes including stains and solid paint. Unfinished it retails for $150, when finished, it costs an additional $50.
Overall, we feel that investing in quality furniture by UrbanGreen is a great way to improve the health of your home without having to spend too much. Their use of formaldehyde-free glues prevents indoor air pollution, and so benefits those with allergies, asthma, and
chemical sensitivity
.
HHI Error Correction Policy
HHI is committed to accuracy of content and correcting information that is incomplete or inaccurate. With our broad scope of coverage of healthful indoor environments, and desire to rapidly publish info to benefit the community, mistakes are inevitable. HHI has established an error correction policy to welcome corrections or enhancements to our information. Please help us improve the quality of our content by contacting allen@healthyhouseinstitute.com with corrections or suggestions for improvement. Each contact will receive a respectful reply.
The Healthy House Institute (HHI), a for-profit educational LLC, provides the information on HealthyHouseInstitute.com as a free service to the public. The intent is to disseminate accurate, verified and science-based information on creating healthy home environments.
While an effort is made to ensure the quality of the content and credibility of sources listed on this site, HHI provides no warranty - expressed or implied - and assumes no legal liability for the accuracy, completeness, or usefulness of any information, product or process disclosed on or in conjunction with the site. The views and opinions of the authors or originators expressed herein do not necessarily state or reflect those of HHI: its principals, executives, Board members, advisors or affiliates.
(Note: The views expressed in this blog post are those of the author, and do not necessarily represent those of The Healthy House Institute, LLC.)
UrbanGreen Hudson Stool Bench Review: Created on March 8th, 2013. Last Modified on April 27th, 2013