Share
Related Topics
Tagged As
When I started the review process of the Precision Nuwave Induction Cooktop, I had never heard of induction cooking . However, I quickly discovered it is a safer and more energy efficient way of cooking than traditional gas or electric burners. How so?
We do not strictly control Google ad content. If you believe any Google ad is inappropriate, please email us directly here.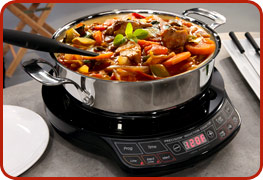 In-depth on Features
Saves Time

The Nuwave Induction Cooktop can save time since it doesn't rely on conduction to heat the burner, then the pan, and then the food. You can also set the temperature anywhere from 100 to 575 degrees Fahrenheit for precise, consistent cooking.
Small & Portable
The cooktop's small size and light weight (5.4 lb.) makes it ideal for dorms or small apartments, or as a simple addition to any kitchen. And, since the induction cooktop can be plugged in anywhere, you can take it camping, boating, or anywhere there is a 120 volt outlet.
Uses Less Energy
The Nuwave Induction Cooktop uses less electricity than a traditional stovetop burner. I measured the one I used while cooking on medium and medium high settings. On medium, the cooktop used about 790 watts, while on medium high it used about 990 watts. Traditional small stove burners use between 1,200 - 1,500 watts.
It transfers heat very efficiently, so only a small percentage of heat escapes into the ambient air. This is an advantage on hot summer days and for areas that stay warm all year round.
Easy to Clean
Like a flat top stove, it's smooth surface is easy to clean. However, it also has additional advantage. Since the cooking surface itself don't get burning hot, spilled food doesn't burn to a crisp, making it easier to remove.
Safe
As mentioned before, since the NuWave only generates heat within the cookware, the cooktop itself stays cool. This is definitely a plus for small children's safety (and for adults' safety too). It also reduces grease splatters, and doesn't release carbon monoxide or other dangerous gases (note:
ventilation
is still important for induction cooktops to remove grease and
water
vapor
).
Although this induction cooktop is thought to be safe for persons with pacemakers, people with pacemakers should double check with their physician before using an induction cooktop.
Other Differences
Because the induction cooktop only heats the bottom of a pan, it doesn't work well for evenly cooking large quantities of food in tall pots. It also makes a difference sound when running which takes a little time getting used to. This is caused primarily by the inner fan, which isn't loud but is noticeable. There can also be an additional buzzing during the induction process. Higher quality, and solid cookware (such as cast iron) shouldn't generate this noise, but some induction-ware can as was discovered in our testing.
Overall
The NuWave Induction Cooktop is definitely a safer, energy-efficient way of cooking. Although, I doubt it will make a huge dent in your energy use, it's safety and easy-to-clean features make it a definite healthy cooking option.
HHI Error Correction Policy
HHI is committed to accuracy of content and correcting information that is incomplete or inaccurate. With our broad scope of coverage of healthful indoor environments, and desire to rapidly publish info to benefit the community, mistakes are inevitable. HHI has established an error correction policy to welcome corrections or enhancements to our information. Please help us improve the quality of our content by contacting allen@healthyhouseinstitute.com with corrections or suggestions for improvement. Each contact will receive a respectful reply.
The Healthy House Institute (HHI), a for-profit educational LLC, provides the information on HealthyHouseInstitute.com as a free service to the public. The intent is to disseminate accurate, verified and science-based information on creating healthy home environments.
While an effort is made to ensure the quality of the content and credibility of sources listed on this site, HHI provides no warranty - expressed or implied - and assumes no legal liability for the accuracy, completeness, or usefulness of any information, product or process disclosed on or in conjunction with the site. The views and opinions of the authors or originators expressed herein do not necessarily state or reflect those of HHI: its principals, executives, Board members, advisors or affiliates.
(Note: The views expressed in this blog post are those of the author, and do not necessarily represent those of The Healthy House Institute, LLC.)
Precision Nuwave Induction Cooktop Review: Created on December 7th, 2012. Last Modified on December 27th, 2012