Share
Related Topics
Tagged As
When using the term "green prefabricated homes", some of us can't help but imagine a small double-wide mobile home covered in some sort of mossy overgrowth. While that notion is pretty far out, many of us have preconceived notions about green housing that frankly aren't true. This book - Prefabulous + Almost Off the Grid - contests these fallacies and shows how green, energy-efficient prefab homes can be beautiful and comfortable, save time and money, protect the environment, conserve materials, and create a healthy environment.
We do not strictly control Google ad content. If you believe any Google ad is inappropriate, please email us directly here.
manufactured homes
and materials of today are high quality and don't have to be cookie-cutter.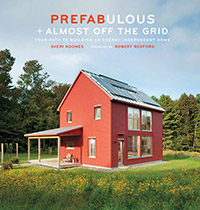 This book details thirty-two prefabricated houses that combine energy-efficiency, sustainability, and design to create beautiful dwellings. These homes include ones featured at the International Builder's Show in Orlando, the World Financial Center in Manhattan, and the Solar Decathlon in D.C. Some are totally off-the-grid (energy-independent), while others keep energy usage low, relying on the grid only minimally. Sidebars in the book explain different green building features and certifications, and define terms such as geothermal, U factor, cellulose
insulation
, and permeable pavement. All the pictures are in full-color allowing a clear look into these model homes.
While this book is primarily designed for those looking to build a green home, it inspires current homeowners to invest in energy saving features for their existing homes. Remodels and additions to the home can also be prefabricated, saving homeowners money while also adding to the home's resale value. A study by the Earth Advantage Institute found that new, certified green homes sold for 8% more than non-certified ones. Another study found that green homes sold faster than traditional homes. Plus, many green features, such as an efficient
ventilation
system
, improve the health factor of home. Anyway you look at it, investing in green building technology is worthwhile, and
Prefabulous + Almost Off the Grid
shows the best ways you can integrate these features into your home.
HHI Error Correction Policy
HHI is committed to accuracy of content and correcting information that is incomplete or inaccurate. With our broad scope of coverage of healthful indoor environments, and desire to rapidly publish info to benefit the community, mistakes are inevitable. HHI has established an error correction policy to welcome corrections or enhancements to our information. Please help us improve the quality of our content by contacting allen@healthyhouseinstitute.com with corrections or suggestions for improvement. Each contact will receive a respectful reply.
The Healthy House Institute (HHI), a for-profit educational LLC, provides the information on HealthyHouseInstitute.com as a free service to the public. The intent is to disseminate accurate, verified and science-based information on creating healthy home environments.
While an effort is made to ensure the quality of the content and credibility of sources listed on this site, HHI provides no warranty - expressed or implied - and assumes no legal liability for the accuracy, completeness, or usefulness of any information, product or process disclosed on or in conjunction with the site. The views and opinions of the authors or originators expressed herein do not necessarily state or reflect those of HHI: its principals, executives, Board members, advisors or affiliates.
(Note: The views expressed in this blog post are those of the author, and do not necessarily represent those of The Healthy House Institute, LLC.)
Prefabulous + Almost Off the Grid Book Review: Created on October 29th, 2012. Last Modified on December 7th, 2012