Share
Related Topics
Tagged As
More

When spring and early summer come around, we know it's outdoor allergy season. But those sniffles may also signal indoor allergy problems. What can trigger indoor allergies? HHI Staff and experts from EverydayHealth.com show how to prevent and remove allergens.
Causes
Beth Corn MD (mountsinai.org):
"The most common indoor allergens include [those from] dust, cockroaches, mold, and cats and dogs. These allergens often lead to postnasal drip, runny nose, nasal congestion, headache, sneezing, itchy, watery eyes, itchy skin, fatigue, and for some people, even difficulty breathing as well as wheezing."
Also, see Healthy Home Basics – Allergies.
We do not strictly control Google ad content. If you believe any Google ad is inappropriate, please email us directly here.
Areas to Target
Anna Feldweg, MD (brighamandwomens.org):
"If a person has [indoor] allergies ... then they should focus their cleaning and other efforts on the rooms in which they spend the most time. This is usually the bedroom and often one other room, such as the study or TV room, in which they typically relax."
Beth Corn, MD, adds that carpet and bathrooms may also harbor allergens.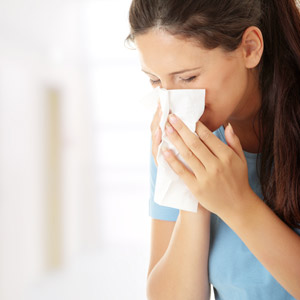 Prevention & Removal
Prevention is the best medicine for treating allergies. Here are some basic ways to prevent and remove the allergy triggers:

1. Remove Clutter
Caroline Blazovsky, CMR, CIE, SDC (healthyhomeexpert.com):
"Having clutter around the house prevents you from being able to clean properly. Remember — dust likes to hide in, around, and under objects, leading to an increase in allergens in the home. Keeping items off the floor allows you to properly vacuum and wash floors, which helps reduce dust mites [and other allergens]."
2. Keep the Air Clean
Dave Wentz and Myron Wentz, PhD (myhealthyhome.com):
Open the windows and screen doors as much as possible [except for pollen allergies].
Caroline Blazovsky, CMR, CIE, SDC:
Look into professional duct cleaning.

HHI Staff:
Use additional mechanical ventilation to remove indoor air particulates, VOCs, and moisture (i.e., running bathroom exhaust fans to remove moisture after showering).
In moist climates, run a dehumidifier.
3. Clean Regularly
Some experts recommend removing most carpeting and replacing with hard floors. This may be impractical in a number of situations. Therefore, thorough cleaning of your carpet (preferably by someone who doesn't suffer from severe allergies) is important.
Here are some other areas to give attention to in preventing allergies:
Debbie Hindman, LEED AP and Amy DePierre, LEED AP (associates3.com):
"Soft goods, such as carpet and upholstery, capture the majority of allergens indoors, so keeping them clean is a must."

Norma Lehmeier Hartie (harmoniousenvironment.com):
Wash animals' bedding often.

4. Decorate and Design Your Home With Allergies in Mind
Debbie Hindman, LEED AP and Amy DePierre, LEED AP:
Set aside only certain rooms for pets.

HHI Staff:
Keep your pets out of your bedroom where you spend at least a third of your day.

William Beson (cambriausa.com):
People with pet allergies should stay away from thick carpets, chenille, and velvet fabrics, which all hold in dander and pet hair.
5. Groom Your Pets
HHI Staff:
Bathe your pets regularly.

Peter Di Iorio (diorhomes.com) and Victoria Di Iorio (healthychild.org):
"Groom pets away from sleeping and eating areas."
Expert comments are sourced from EverydayHealth.com.
HHI Error Correction Policy
HHI is committed to accuracy of content and correcting information that is incomplete or inaccurate. With our broad scope of coverage of healthful indoor environments, and desire to rapidly publish info to benefit the community, mistakes are inevitable. HHI has established an error correction policy to welcome corrections or enhancements to our information. Please help us improve the quality of our content by contacting allen@healthyhouseinstitute.com with corrections or suggestions for improvement. Each contact will receive a respectful reply.
The Healthy House Institute (HHI), a for-profit educational LLC, provides the information on HealthyHouseInstitute.com as a free service to the public. The intent is to disseminate accurate, verified and science-based information on creating healthy home environments.
While an effort is made to ensure the quality of the content and credibility of sources listed on this site, HHI provides no warranty - expressed or implied - and assumes no legal liability for the accuracy, completeness, or usefulness of any information, product or process disclosed on or in conjunction with the site. The views and opinions of the authors or originators expressed herein do not necessarily state or reflect those of HHI: its principals, executives, Board members, advisors or affiliates.
(Note: The views expressed in this blog post are those of the author, and do not necessarily represent those of The Healthy House Institute, LLC.)
Minimizing Indoor Allergies: Created on May 28th, 2011. Last Modified on May 7th, 2013