Share
Related Topics
Tagged As
Visiting the High Line is one of those magical experiences where once you taste it, you'll want to go back for more. Several flights of stairs above the ground, designed on old railroad tracks (in operation from 1934-1980) with the buildings of Manhattan and the Hudson River as a backdrop, the High Line is paradoxically both a soothing and extraordinarily stimulating public park.
We do not strictly control Google ad content. If you believe any Google ad is inappropriate, please email us directly here.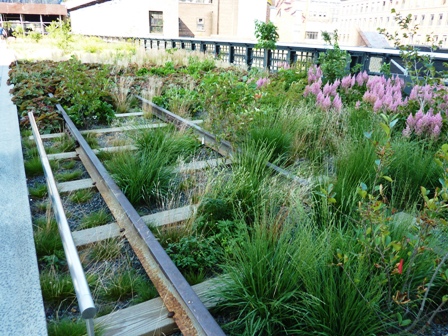 The garden is designed with a large amount of native plants: once you get to the top of the stairs, you feel like you're entering a prairie or meadow. "The High Line's planting design is inspired by the self-seeded landscape that grew on the out-of-use elevated rail tracks during the 25 years after trains stopped running." (quoted from the High Line's website)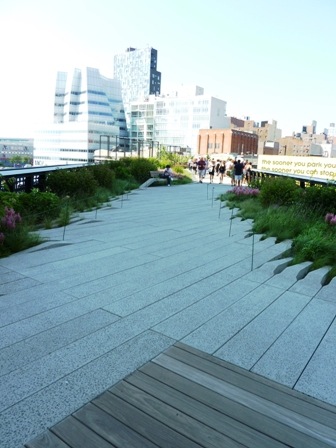 The High Line is also a green roof. In the Four Day Green Roof Boot Camp that I recently took, we discussed whether or not it met the requirements to be considered a green roof. The answer given by the instructor was a big 'yes'.

But what I love most about the High Line is that it has become a meeting place for folks from NYC, surrounding areas and all over the world. It's a public space that personifies what gardening professionals call 'People and Plants'; the effect that plants have on people (and vice versa).

The gardens were designed by Piet Oudolf, about whom we have written several articles at Gardening Gone Wild. As always, Piet's selection and planting of specimens was done with discipline and rigour. Walking through block after block of gardens, it is easy to think that his plant palette is minimalistic. But it isn't. Check out the plant list: it consists of 210 species of perennials, grasses, shrubs and trees that were chosen for their sustainability and hardiness. The gardens also incorporate many of the species that originally grew on the High Line's rail bed. Although Piet doesn't consider himself a colorist, his judicious placement of pinks, purples, magenta and soft white blooms dotted with orange (in June) suggests a well thought out and executed choice of color.

What's really cool is seeing the specimens planted between the railroad tracks! It's a good reminder of how any type of garden has the potential of giving birth in a 'yet thought of place'; an inspiration for a lot of us gardeners to dare to create a garden 'outside of the box'.
Photos: Fran Sorin
HHI Error Correction Policy
HHI is committed to accuracy of content and correcting information that is incomplete or inaccurate. With our broad scope of coverage of healthful indoor environments, and desire to rapidly publish info to benefit the community, mistakes are inevitable. HHI has established an error correction policy to welcome corrections or enhancements to our information. Please help us improve the quality of our content by contacting allen@healthyhouseinstitute.com with corrections or suggestions for improvement. Each contact will receive a respectful reply.
The Healthy House Institute (HHI), a for-profit educational LLC, provides the information on HealthyHouseInstitute.com as a free service to the public. The intent is to disseminate accurate, verified and science-based information on creating healthy home environments.
While an effort is made to ensure the quality of the content and credibility of sources listed on this site, HHI provides no warranty - expressed or implied - and assumes no legal liability for the accuracy, completeness, or usefulness of any information, product or process disclosed on or in conjunction with the site. The views and opinions of the authors or originators expressed herein do not necessarily state or reflect those of HHI: its principals, executives, Board members, advisors or affiliates.
(Note: The views expressed in this blog post are those of the author, and do not necessarily represent those of The Healthy House Institute, LLC.)
The High Line: Created on July 19th, 2010. Last Modified on August 1st, 2010