Share
Related Topics
Tagged As
More

By heating water only when it's needed, ENERGY STAR qualified gas tankless water heaters cut water heating expenses by 30%, while also providing continuous hot water delivery. Gas tankless models are a great choice for new construction and major remodeling, but are also becoming popular as a replacement for gas storage water heaters. See if you should make your next water heater an ENERGY STAR qualified tankless model.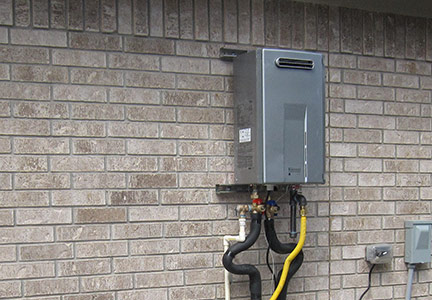 ENERGY STAR Specifications
Covers high-efficiency gas storage, gas condensing, whole-home gas tankless, solar, and heat pump water heaters. Products must meet minimum requirements for energy efficiency, hot water delivery, warranty period, and safety.
ENERGY STAR qualified heat pump water heaters are more than twice as efficient as standard electric models. By choosing an ENERGY STAR qualified heat pump water heater, you can cut your water heating costs in half!
Tankless water heaters have a life expectancy of 20 years, much longer than any conventional tank-type water heater.
What else should I look for when buying a whole-home gas tankless water heater?
ENERGY STAR qualified gas tankless water heaters are currently available from contractors and retailers. If you are building a new home, or in the market to replace your existing gas water heater, consider these purchasing tips:
Plan ahead if you can
. If you want to replace your current gas water heater don't wait until it fails, as this will leave little time to choose and install a qualified ENERGY STAR tankless model. Because installation may require the upgrade of your existing natural gas line, as well as special venting or electric service, you will need to allow sufficient time to evaluate costs and complete the change out. To make your life easier, try to have a new one installed before it's an emergency.
2. Check product availability. Find out what qualified tankless models are available on the market by viewing the ENERGY STAR Product List.

3. Decide what size you need. While the capacity of gas storage water heaters is based on the number of gallons that will fit in the tank, tankless models are rated by how many gallons of hot water they produce per minute (GPM). The more likely you are to have the shower, dishwasher, and clothes washer going at once, the larger the GPM you will need. You will need to consult with an experienced plumber to estimate the hot water demands in your home, but here are some average figures:
Shower and Bathtub - 2.5 GPM
Clothes Washer - 3.3 GPM
Kitchen and Bathroom Sink - 2.2 GPM
Dishwasher - 1.3 GPM
4. Get a quote from a contractor or retailer. You may want to check a manufacturer or retailer's Web site to get a general idea of cost, but you will eventually need an installer to come to your home and give you a customized price. The installer should confirm the optimal GPM size for you home, determine whether your existing natural gas line and electrical service is sufficient, and identify how the combustion gases will be vented. When requesting a quote, remember to:
Request cost estimates in writing.
Ask for references.
Check the company with your local Better Business Bureau.
See if the company will obtain a local permit if necessary and understands local residential building codes.
5. Search for rebates and tax credits. You may be able to reduce your costs by taking advantage of rebates or tax credits. Be sure to review the eligibility rules before you make your purchase.
Use the Special Deals Finder
Determine whether there are rebates available for ENERGY STAR qualified gas tankless water heaters in your zip code.
Claim a Federal Tax Credit
ENERGY STAR qualified gas tankless water heaters installed in 2010 may be eligible for a tax credit of 30%, up to $1500, depending on the energy factor of the model you choose.

HHI Error Correction Policy
HHI is committed to accuracy of content and correcting information that is incomplete or inaccurate. With our broad scope of coverage of healthful indoor environments, and desire to rapidly publish info to benefit the community, mistakes are inevitable. HHI has established an error correction policy to welcome corrections or enhancements to our information. Please help us improve the quality of our content by contacting allen@healthyhouseinstitute.com with corrections or suggestions for improvement. Each contact will receive a respectful reply.
The Healthy House Institute (HHI), a for-profit educational LLC, provides the information on HealthyHouseInstitute.com as a free service to the public. The intent is to disseminate accurate, verified and science-based information on creating healthy home environments.
While an effort is made to ensure the quality of the content and credibility of sources listed on this site, HHI provides no warranty - expressed or implied - and assumes no legal liability for the accuracy, completeness, or usefulness of any information, product or process disclosed on or in conjunction with the site. The views and opinions of the authors or originators expressed herein do not necessarily state or reflect those of HHI: its principals, executives, Board members, advisors or affiliates.
Whole Home Gas Tankless Water Heaters: Created on December 29th, 2012. Last Modified on March 30th, 2013