A mattress is a long-term purchase, so it's easy to over look the warning signs that you may need a new mattress. Mattresses can come with warranties that last 10-20 years but sometimes you may need a replacement sooner than that. So how are you supposed to know if it's time for a new mattress? In addition to your mattress' age, other factors such as dirt, allergen accumulation, moisture damage and chemical content of the components of the mattress are other things that need to be considered when making your decision to replace your mattress.
We do not strictly control Google ad content. If you believe any Google ad is inappropriate, please email us directly here.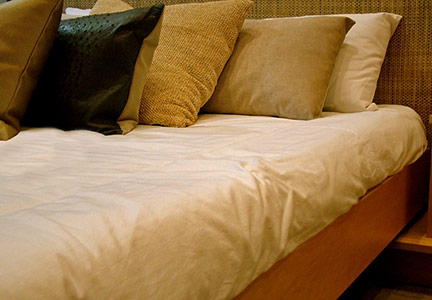 As terrible as it is to think about, mattresses can become their own ecosystem, playing host to a number of organisms that can cause irritation and problems in allergy sufferers, or can be the cause of allergies in some cases.
One of the most common issues with mattresses is dust mites. These microscopic organisms feed on the dead skin cells that make their way into the mattress. The mattress industry's favorite "fact" is that mattresses can double in weight in a decade from the presence of dust mites. While this has never been scientifically supported, over time, the presence of dust mites can add up, and the more there are, the worse allergies can become. Mites don't bite, but their waste and dead bodies are irritants to humans when breathed, causing what we consider to be an allergic reaction. Stuffy or runny noses, itchy or watery eyes, and sneezing or coughing are all symptoms that can be attributed to mites. Mites can also exacerbate symptoms in asthma sufferers.
Moisture is another enemy of mattresses. Moisture can be a breeding ground for mold, mildew and bacteria, none of which you want to breathe while you sleep. These irritants can come from something as innocuous as a spilled glass of water or an accident from a pet. Even the moisture generated from your body during the night can be enough to cause the growth of mildew over time. This is an even greater issue during the summer months, when the chances of perspiration during the night are greater and humidity in the air slows the drying process.
Another consideration is the chance that you may be allergic to the materials used in the mattress itself. Allergies to cotton, wool and synthetics are far from unheard of, but are also hard to pin down because symptoms are usually identical to those caused by more common allergens. Seeing a doctor to pinpoint your exact allergies is the only sure way to identify what is causing your issues, but being aware of them will also let you know what type of material your next mattress should be made of.
AAFA's newest asthma & allergy friendly™ Certification Standard is for "Mattresses" which evaluates multiple facets of a mattress including the barrier function of the encasing materials (to keep out dust mites, etc.), chemical composition and emission testing of the component materials, and real-time allergen accumulation and exposure on the finished product.
Only those mattresses that pass the rigorous scientific testing protocols and meet the strict standards are qualified to be Certified asthma & allergy friendly™. The distinctive Certification Mark found on packaging informs consumers that these products are more suitable for individuals with asthma and allergies. The standards are designed to ensure that products do not contain harmful chemicals, can withstand routine cleaning, and under normal use and care, will not allow household allergens to accumulate at high levels. Each product is labeled to inform the consumer why it has been certified and includes a specific set of detailed instructions for maintaining them in a low-allergen condition.
The Back Supporter® mattress line called Breathe™ from Spring Air is the first mattress to be Certified asthma & allergy friendly™, and was recently made available at retailers nationwide. For more information, or to see more Certified asthma & allergy friendly™ products and the retailers that carry them, please visit www.aafa.org/certified.
Note- HHI does not endorse products or services.
HHI Error Correction Policy
HHI is committed to accuracy of content and correcting information that is incomplete or inaccurate. With our broad scope of coverage of healthful indoor environments, and desire to rapidly publish info to benefit the community, mistakes are inevitable. HHI has established an error correction policy to welcome corrections or enhancements to our information. Please help us improve the quality of our content by contacting allen@healthyhouseinstitute.com with corrections or suggestions for improvement. Each contact will receive a respectful reply.
The Healthy House Institute (HHI), a for-profit educational LLC, provides the information on HealthyHouseInstitute.com as a free service to the public. The intent is to disseminate accurate, verified and science-based information on creating healthy home environments.
While an effort is made to ensure the quality of the content and credibility of sources listed on this site, HHI provides no warranty - expressed or implied - and assumes no legal liability for the accuracy, completeness, or usefulness of any information, product or process disclosed on or in conjunction with the site. The views and opinions of the authors or originators expressed herein do not necessarily state or reflect those of HHI: its principals, executives, Board members, advisors or affiliates.
How Old Is Your Mattress?: Created on August 15th, 2012. Last Modified on January 24th, 2014