Share
Related Topics
Tagged As
Every year, one in three adults over age 64 falls. But certain exercises and simple home modifications help reduce the risk.
We do not strictly control Google ad content. If you believe any Google ad is inappropriate, please email us directly here.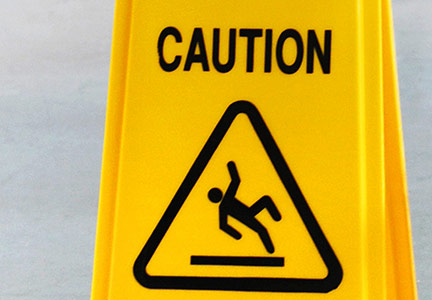 "Half of falls occur in a person's home. Falls are the main reason older people go to emergency departments," says Steve Albert, Ph.D., co-director of the University of Pittsburgh Prevention Research Center (PRC).
The PRC is part of a nationwide network of 37 academic and community research partners funded by the Centers for Disease Control and Prevention (CDC) to find ways to keep people healthy. Several PRCs research ways to help older adults avoid falling. Dr. Albert is comparing the effectiveness of two fall-prevention programs, and health agencies will use findings in choosing which program to offer.
"Most falls involve changing location, such as while walking or moving from a bed or chair," says Dr. Albert. "Sometimes, falls happen when someone carries laundry down stairs without a railing."
"Stairs are a challenge for people with balance problems," says Elizabeth Phelan, M.D., a University of Washington PRC researcher who runs a fall-prevention clinic in Seattle. Because evidence shows that people can reduce their fall risk by improving balance and strength, Dr. Phelan refers many patients to
EnhanceFitness
, an exercise class developed by the Washington PRC. Proven to improve balance and strength, EnhanceFitness is offered at 450 sites nationwide.
Older adults who fall are at risk for more falls, Dr. Phelan says. She is researching the feasibility of emergency medical technicians providing fall-prevention information when responding to fall-related 911 calls. Acting on such information may reduce callers' risk of future falls.
"Falls rob people of their independence," says Dr. Phelan. "Many older adults can no longer live on their own if they have suffered serious fall-related injuries."
People should address fall hazards when they're young so they can live at home as long as possible, says Marcia Ory, Ph.D., a Texas A&M Health Science Center PRC researcher.

Dr. Ory studies how to implement effective fall-prevention programs and policies. "Many states offer fall-prevention screening, referrals and programs, but more offerings are needed," she says. "Older adults and their caregivers should ask their health care providers and public health agencies about these programs." A list of effective programs is at www.cdc.gov/HomeandRecreationalSafety/Falls/compendium.html.

For more information about the CDC's PRC Program, visit www.cdc.gov/prc.
HHI Error Correction Policy
HHI is committed to accuracy of content and correcting information that is incomplete or inaccurate. With our broad scope of coverage of healthful indoor environments, and desire to rapidly publish info to benefit the community, mistakes are inevitable. HHI has established an error correction policy to welcome corrections or enhancements to our information. Please help us improve the quality of our content by contacting allen@healthyhouseinstitute.com with corrections or suggestions for improvement. Each contact will receive a respectful reply.
The Healthy House Institute (HHI), a for-profit educational LLC, provides the information on HealthyHouseInstitute.com as a free service to the public. The intent is to disseminate accurate, verified and science-based information on creating healthy home environments.
While an effort is made to ensure the quality of the content and credibility of sources listed on this site, HHI provides no warranty - expressed or implied - and assumes no legal liability for the accuracy, completeness, or usefulness of any information, product or process disclosed on or in conjunction with the site. The views and opinions of the authors or originators expressed herein do not necessarily state or reflect those of HHI: its principals, executives, Board members, advisors or affiliates.
Simple Steps To Reduce Fall Risks: Created on August 11th, 2012. Last Modified on July 24th, 2013