Share
Related Topics
Tagged As
Southlake, TX - May 21, 2012. In an effort to better inform commercial-and-household-flooring-product consumers, the ANSI B101 Committee on Slip, Trip and Fall Prevention has recently published a new product labeling standard, ANSI/NFSI B101.5-2012. According to Russell Kendzior, B101 Committee Secretary: "In the past floor covering consumers have had no way of knowing whether or not a particular floor was slippery and thus appropriate for use in high-risk areas such as bathrooms or kitchens; with the new product labeling standard, consumers can now be better informed as to the slip risk at the time of purchase."
We do not strictly control Google ad content. If you believe any Google ad is inappropriate, please email us directly here.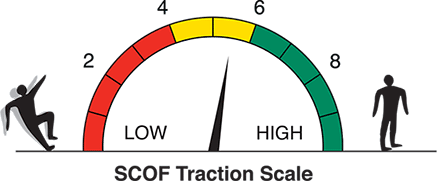 "A growing number of floor covering manufacturers and retailers are stepping up to address the growing slip-and-fall problem and have supported this new labeling system. Consumers only need to look for the Traction label on product packaging to know whether or not the floor they are looking to purchase is appropriate for their use."
About the National Floor Safety Institute
Founded in 1997 as a 501(c)3 not-for-profit organization, the NFSI has quickly grown to become one of the leading educational safety and research organizations in the country, and is the Secretariat of the ANSI B101 Committee on Slip, Trip-and-Fall Prevention. The NFSI has a fifteen-member board of directors representing product manufacturers, insurers, trade associations, and independent researchers.

For additional information, visit www.nfsi.org.

Contact: Russell Kendzior
Office: (817) 749-1705
Cell: (817) 368-1909
russk@nfsi.org
HHI Error Correction Policy
HHI is committed to accuracy of content and correcting information that is incomplete or inaccurate. With our broad scope of coverage of healthful indoor environments, and desire to rapidly publish info to benefit the community, mistakes are inevitable. HHI has established an error correction policy to welcome corrections or enhancements to our information. Please help us improve the quality of our content by contacting allen@healthyhouseinstitute.com with corrections or suggestions for improvement. Each contact will receive a respectful reply.
The Healthy House Institute (HHI), a for-profit educational LLC, provides the information on HealthyHouseInstitute.com as a free service to the public. The intent is to disseminate accurate, verified and science-based information on creating healthy home environments.
While an effort is made to ensure the quality of the content and credibility of sources listed on this site, HHI provides no warranty - expressed or implied - and assumes no legal liability for the accuracy, completeness, or usefulness of any information, product or process disclosed on or in conjunction with the site. The views and opinions of the authors or originators expressed herein do not necessarily state or reflect those of HHI: its principals, executives, Board members, advisors or affiliates.
NFSI Introduces New "Traction" Label: Created on May 21st, 2012. Last Modified on June 2nd, 2014