The Asthma and Allergy Foundation of America (AAFA) created this 28-page coloring/activity book to provide children and their families with a basic understanding of asthma and food allergies. The activity booklet, appropriate for children of all ages, provides a fun way for children to learn how to recognize common triggers and to control their asthma and food allergy symptoms. In addition to the word finds, crossword puzzle, word scramble, maze and other activities, there is a story to read and color, plus a list of additional website resources for parents and kids on asthma and allergies.
We do not strictly control Google ad content. If you believe any Google ad is inappropriate, please email us directly here.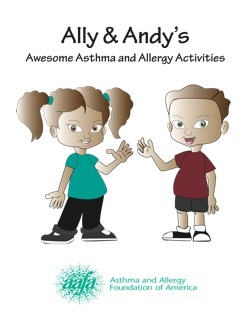 Download a free copy of "Ally and Andy's Asthma and Allergy Activities" book.
HHI Error Correction Policy
HHI is committed to accuracy of content and correcting information that is incomplete or inaccurate. With our broad scope of coverage of healthful indoor environments, and desire to rapidly publish info to benefit the community, mistakes are inevitable. HHI has established an error correction policy to welcome corrections or enhancements to our information. Please help us improve the quality of our content by contacting allen@healthyhouseinstitute.com with corrections or suggestions for improvement. Each contact will receive a respectful reply.
The Healthy House Institute (HHI), a for-profit educational LLC, provides the information on HealthyHouseInstitute.com as a free service to the public. The intent is to disseminate accurate, verified and science-based information on creating healthy home environments.
While an effort is made to ensure the quality of the content and credibility of sources listed on this site, HHI provides no warranty - expressed or implied - and assumes no legal liability for the accuracy, completeness, or usefulness of any information, product or process disclosed on or in conjunction with the site. The views and opinions of the authors or originators expressed herein do not necessarily state or reflect those of HHI: its principals, executives, Board members, advisors or affiliates.
AAFA Offers Free Childrens' Book: Created on February 21st, 2012. Last Modified on August 30th, 2012