Share
Related Topics
Tagged As
Pure, clean water. That's what the ads say. But what does the lab say?
We do not strictly control Google ad content. If you believe any Google ad is inappropriate, please email us directly here.
bottled
water
, which costs up to 1,900 times more than tap water, you have a right to know what exactly is inside that pricey plastic bottle.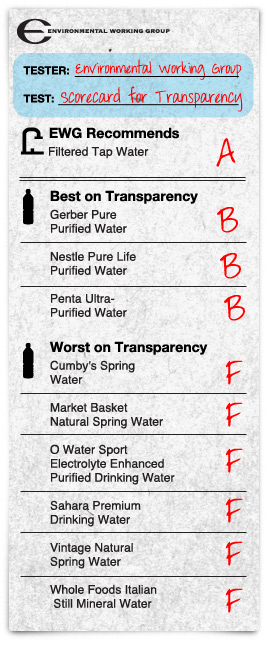 Most bottled water makers don't agree. They keep secret some or all the answers to these elementary questions:
Where does the water come from?
Have tests found any contaminants?
Among the ten best-selling brands, nine — Pepsi's Aquafina, Coca-Cola's Dasani, Crystal Geyser and six of seven Nestlé brands — don't answer at least one of those questions.
Only one — Nestlé's Pure Life Purified Water — discloses its water source and treatment method on the label and offers an 800-number, website or mailing address where consumers can request a water quality test report.
The industry's refusal to tell consumers everything they deserve to know about their bottled water is surprising.
Since July 2009, when Environmental Working Group released its groundbreaking Bottled Water Scorecard, documenting the industry's failure to disclose contaminants and other crucial facts about their products, bottled water producers have been taking withering fire from consumer and environmental groups.
A new EWG survey of 173 unique bottled water products finds a few improvements – but still too many secrets and too much advertising hype. Overall, 18 percent of
bottled
waters
fail to list the source, and 32 percent disclose nothing about the treatment or purity of the water. Much of the marketing nonsense that drew ridicule last year can still be found on a number of labels.
EWG recommends that you drink filtered tap water. You'll save money, drink water that's purer than tap water, and help solve the global glut of plastic bottles.
We support stronger federal standards to enforce the consumer's right to know all about bottled water.
Until the federal Food and Drug Administration cracks down on water bottlers, use
EWG's Bottled Water Scorecard
to find brands that disclose water source, treatment, and quality and that use advanced treatment methods to remove a broad range of pollutants.
HHI Error Correction Policy
HHI is committed to accuracy of content and correcting information that is incomplete or inaccurate. With our broad scope of coverage of healthful indoor environments, and desire to rapidly publish info to benefit the community, mistakes are inevitable. HHI has established an error correction policy to welcome corrections or enhancements to our information. Please help us improve the quality of our content by contacting allen@healthyhouseinstitute.com with corrections or suggestions for improvement. Each contact will receive a respectful reply.
The Healthy House Institute (HHI), a for-profit educational LLC, provides the information on HealthyHouseInstitute.com as a free service to the public. The intent is to disseminate accurate, verified and science-based information on creating healthy home environments.
While an effort is made to ensure the quality of the content and credibility of sources listed on this site, HHI provides no warranty - expressed or implied - and assumes no legal liability for the accuracy, completeness, or usefulness of any information, product or process disclosed on or in conjunction with the site. The views and opinions of the authors or originators expressed herein do not necessarily state or reflect those of HHI: its principals, executives, Board members, advisors or affiliates.
What's In Your Bottled Water – Besides Water?: Created on January 16th, 2011. Last Modified on March 11th, 2014