Share
Related Topics
Tagged As
Contaminants in house dust are an important source of exposure that can be reduced by good design, good flooring choices, and good cleaning practices. House-dust contaminants may settle from the air or be tracked in from outdoors. Exposure to house-dust contaminants happens by inhaling them or swallowing them. If you monitor particles in a room and, at the same time, monitor them near a person's mouth, the concentration of particles near the mouth is 1.5 - 2 times more than in the room's air. Like the Peanuts character Pig Pen we literally raise a cloud of dust by our activity. Exposure for children is greater than for adults and is greatest for children who crawl on the floor. Infants are reported to swallow between 0.02 and 10 grams of dirt a day. For an average child this is simply the result of touching everything within reach and putting their hands or objects in their mouths.
We do not strictly control Google ad content. If you believe any Google ad is inappropriate, please email us directly here.
What contaminants are in house dust? Researcher John Roberts reports the following: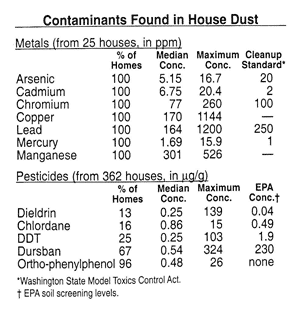 In addition to these contaminants, house dust contains many allergens or organic substances including pet dander, fungal spores, insect scale, bacteria, and dust-mite feces.
There's evidence in the literature that, when they are clean, carpets behave as sinks. In other words, carpets can collect particles and prevent their release back into the air. Because of this, it is likely that airborne particle levels are lower in clean carpeted rooms than in rooms with hard-surface flooring. On the other hand, there is evidence that if carpets are not kept clean, they release enough collected particles back into the air so that particle levels are greater than in rooms with hard-surfaced floors.
In a study of 11 carpets, John Roberts reports that the carpets contained between 8 and 175 grams of dust per square meter (g/m2), averaging 67 g/m2. Furthermore, it took between 5 and 45 minutes to collect this dust from a single square meter of carpet. While this amount of cleaning time is more than anyone would routinely spend, it was also found that, once cleaned, carpet can be kept clean in far less time; especially if a vacuum is used that has an indicator light that detects when the carpet is clean. Deep cleaning with this kind of vacuum reduced the fine dust levels by 91%, the lead levels by 82%, and the dust-mite allergen levels by 90%.
Hard-surface floors have a different dust dynamic than carpets. The 67 grams of dust collected from the average carpet in John Roberts' study amounts to approximately a cup of dust per square meter. That amount of dust on a hard-surface floor would not be tolerated in most circumstances, and it would be easy to clean up from a hard-surface floor. Consequently, using common cleaning practices, hard-surface floors do not have nearly as much dust per square meter as carpeted floors.
The following table compares the amount of dust (in grams per square meter) on typical carpeted and hard-surfaced floors, with different methods of reducing dust entry.

Below are the results of a study made to assess the effectiveness of different types of vacuum cleaners at removing dust.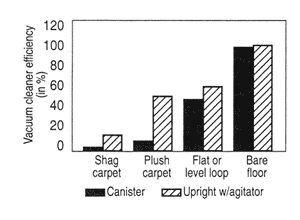 How can you reduce your exposure to contaminants in house dust? Based on my understanding of the research data, I make the following recommendations for healthy house design.
Reduce the rate at which dust enters a house by designing entries so there is room to remove and store coats, shoes, and boots. You can stop tracked-in contaminants at entries with well drained, surfaced and cleaned walkways, and a three-part track-off system. First, use a permeable, rugged outdoor mat that collects gritty materials and allows them to fall through to a collection basin. Second, use a rugged indoor mat that collects grit and water. Third, use a hard-surfaced, easily mopped floor to collect the very fine particles left by drying footprints.
A double reduction! Not only does reducing the dust level at the entry door reduce your exposure to the contaminants in the dust, but it also reduces your exposure to contaminants from cleaning products that are used to control or remove the contaminants after they get indoors.

If carpets are selected, use a carpet that is easy-to-clean with ordinary vacuuming (i.e. level loop or plush; avoid shag). Install a central vacuum cleaner with a power head. Use carpets, and carpet pads, having low emissions. Attach carpets with tack-strips rather than adhesives. To minimize outgassing, avoid heating systems that warm the carpet, such as radiant floors or baseboard heaters.
(This article is from the archives of the original Healthy House Institute, and the information was believed accurate at the time of writing.)

(Note: The views expressed in this article are those of the author, and do not necessarily represent those of The Healthy House Institute, LLC.)
HHI Error Correction Policy
HHI is committed to accuracy of content and correcting information that is incomplete or inaccurate. With our broad scope of coverage of healthful indoor environments, and desire to rapidly publish info to benefit the community, mistakes are inevitable. HHI has established an error correction policy to welcome corrections or enhancements to our information. Please help us improve the quality of our content by contacting allen@healthyhouseinstitute.com with corrections or suggestions for improvement. Each contact will receive a respectful reply.
The Healthy House Institute (HHI), a for-profit educational LLC, provides the information on HealthyHouseInstitute.com as a free service to the public. The intent is to disseminate accurate, verified and science-based information on creating healthy home environments.
While an effort is made to ensure the quality of the content and credibility of sources listed on this site, HHI provides no warranty - expressed or implied - and assumes no legal liability for the accuracy, completeness, or usefulness of any information, product or process disclosed on or in conjunction with the site. The views and opinions of the authors or originators expressed herein do not necessarily state or reflect those of HHI: its principals, executives, Board members, advisors or affiliates.
House Dust Contaminants and How to Avoid Them: Created on August 14th, 2010. Last Modified on November 3rd, 2010