Share
Related Topics
Tagged As
A photovoltaic (PV) or solar cell is the basic building block of a PV (or solar electric) system. An individual PV cell is usually quite small, typically producing about 1 or 2 watts of power. To boost the power output of PV cells, we connect them together to form larger units called modules. Modules, in turn, can be connected to form even larger units called arrays, which can be interconnected to produce more power, and so on. In this way, we can build PV systems able to meet almost any electric power need, whether small or large.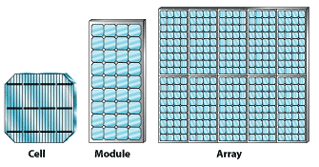 We do not strictly control Google ad content. If you believe any Google ad is inappropriate, please email us directly here.
By themselves, modules or arrays do not represent an entire PV system. We also need structures to put them on that point them toward the sun, and components that take the direct-current (DC) electricity produced by modules and "condition" that electricity, usually by converting it to alternate-current (AC) electricity. We might also want to store some electricity, usually in batteries, for later use. All these items are referred to as the "balance of system" (BOS) components.

Combining modules with the BOS components creates an entire PV system. This system is usually everything we need to meet a particular energy demand, such as powering a water pump, or the appliances and lights in a home, or, if the PV system is large enough, all the electrical requirements of a whole community.
HHI Error Correction Policy
HHI is committed to accuracy of content and correcting information that is incomplete or inaccurate. With our broad scope of coverage of healthful indoor environments, and desire to rapidly publish info to benefit the community, mistakes are inevitable. HHI has established an error correction policy to welcome corrections or enhancements to our information. Please help us improve the quality of our content by contacting allen@healthyhouseinstitute.com with corrections or suggestions for improvement. Each contact will receive a respectful reply.
The Healthy House Institute (HHI), a for-profit educational LLC, provides the information on HealthyHouseInstitute.com as a free service to the public. The intent is to disseminate accurate, verified and science-based information on creating healthy home environments.
While an effort is made to ensure the quality of the content and credibility of sources listed on this site, HHI provides no warranty - expressed or implied - and assumes no legal liability for the accuracy, completeness, or usefulness of any information, product or process disclosed on or in conjunction with the site. The views and opinions of the authors or originators expressed herein do not necessarily state or reflect those of HHI: its principals, executives, Board members, advisors or affiliates.
What is a Photovoltaic (PV) or Solar Cell?: Created on May 10th, 2009. Last Modified on May 10th, 2009